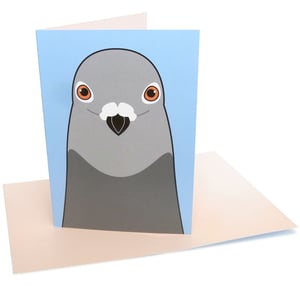 £

2.00
A beautifully precise, high quality, striking vector image of a confident looking pigeon by Alex Garnett. A pigeon greeting card is just the thing to brighten up your roost. Does he know the meaning of life or does he just want some bread? We'll never know unless you speak pigeon? Exclusive, colour design. The scourge of London never looked so cute.
Dimensions (cm) - 10.5 x 14.8 (folded to A6)
chromaticity 4/4 (full colour) double-sided digital print, 300gsm matt coated, card. With envelope.