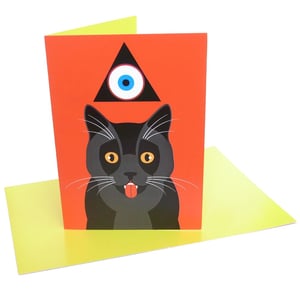 £

2.00
An exclusive cat design on quality colour card. The perfect gift for the cat lover or occult feline worshipper. A beautifully precise, striking vector image of an ambiguous looking cat by Alex Garnett. Is he friendly or pure evil? should i stroke him or not?
Dimensions (cm) - 10.5 x 14.8 (folded to A6)
chromaticity 4/4 (full colour) double-sided digital print, 300gsm matt coated, card. With envelope.